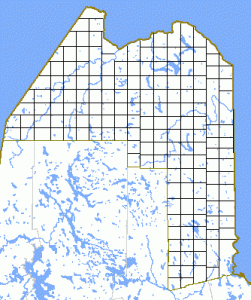 Aroostook county is laid out in a grid-like fashion. Ranges run north and south and are numbered westward from the eastern border of the state (up to range 17). Each range is made up of townships, which are numbered from south to north (up to township 20, although, because of the irregularity of the shape of Aroostook county, not all ranges contain 20 townships). The township numbers for the ranges in Aroostook county are:
Ranges 1-2: Townships are not numbered (see below)
Ranges 3-5: Townships 1-18
Ranges 6-7: Townships 9-18
Range 8: Townships 9-17
Range 9: Townships 11-17
Range 10: Townships 11-18
Range 11: Townships 11-20
Range 12: Townships 11-19
Range 13: Townships 11-18
Range 14: Townships 11-17
Range 15: Townships 11-15
Range 16: Townships 11-14
Range 17: Townships 11-12
A specific township in a specific range may have been named a plantation. Some plantations were given names (such as Range 6, Township 9: "Oxbow Plantation"), while others (in ranges 1 and 2) were given simple letter designations (such as "Letter D Plantation"). Oftentimes these names were derived from villages that were established within them, which can cause some confusion — Van Buren village, for example, is different from Van Buren Plantation. All others are referred to (in census records, etc) simply by their range/township numbers (such as Range 9, Township 16).
Maps
The following sites relate to maps of Aroostook county:
Related Pages on this site
The names of the villages, plantations, towns, and range/townships — past and present — are collected together into the Township List, a listing of every township that has or had a populated place with a link to the individual township place.. We've also collected together the names of the known cemeteries in Aroostook county on the Cemetery page (coming soon). Similarly, we've collected together the names of the known churches in Aroostook county on the Churches page (coming soon).